FoodSaver GameSaver Big Game
DC adaptor, rugged construction & carry handle make it perfect for home and outdoor use
Features
11" double-wide seal bar
12V DC & 110/120V compatible
Handles up to 80 consecutive seals
Built-in bag storage and cutter
Integrated carry handle
Removable drip tray
Lifetime limited warranty
Last update on 2022-06-27 at 15:58 / Affiliate links / Images from Amazon Product Advertising API
VacMaster PRO380
Wide enough to seal two 8" vacuum bags simultaneously
Features
16" single "extra wide" seal bar
Double piston fan-cooled pump
26 inHg vacuum strength
Bag storage
Bag cutter
Last update on 2022-06-27 at 15:58 / Affiliate links / Images from Amazon Product Advertising API
Cabela's 15" Commercial-Grade Vacuum Sealer
Tons of commercial grade features for a fraction of the price
Features
15" double seal bar
Double piston pump
26 inHg vacuum strength
Built in bag roller & cutter
FoodSaver GameSaver Outdoorsman
Despite its name it lacks the outdoor capabilities of the GameSaver Big Game
Features
11" single "extra wide" seal bar
Handles up to 40 consecutive seals
Removable drip tray
5-year limited warranty
No bag cutter
No bag storage
Last update on 2022-06-27 at 15:58 / Affiliate links / Images from Amazon Product Advertising API
VacMaster VP215
The best for vacuum sealing liquids and marinated meat
Features
10" double seal bar
No wait time between seals
¼ HP rotary oil pump
10″W x 13″L x 5"H vacuum chamber
Requires oil top-ups
1-year limited warranty
Read the full review: VacMaster VP215
Last update on 2022-06-27 at 09:50 / Affiliate links / Images from Amazon Product Advertising API
Weston Pro 2300
Powerful & durable no-nonsense sealer
Features
15" single "extra large" seal bar
Double piston fan-cooled pump
28 inHg vacuum strength
Easily available spare parts
2-year warranty
No bag cutter
No bag storage
Sale
Last update on 2022-06-27 at 15:58 / Affiliate links / Images from Amazon Product Advertising API
Buying Guide
Edge Sealer vs Vacuum Chamber
For most people looking for the absolute best vacuum chamber we would usually recommend a chamber vacuum sealer. They outperform the clamshell style edge sealers in almost every way including seal time, wait time between seals, ability to easily vacuum seal liquids, easier maintenance and availability of spare parts.
However the big downside of chamber vacuums is that you are limited in volume. You can only seal whatever you can fit inside the chamber! Chamber vacuum sealers like the VacMaster VP215, for example, have much better performance compared to an edge sealer but there's no way you'll fit a whole rib cage in the chamber.
For home users sealing really large items we recommend going for an edge sealing vacuum sealer as you are then only limited by the size of the vacuum bag and the width of the seal bar.
Consecutive Seals
If you've got a lot of large items to seal check how many consecutive seals the vacuum sealer is capable of. Sealers like the FoodSaver GameSaver Big Game will run for up to 80 consecutive seals before you need to stop to give the vacuum pump time to cool down. Cheaper vacuum sealers will struggle unless you wait a few minutes between every seal.
Double Seal
Look for sealers with a double seal or dual seal bar to maximise the freshness and longevity of your large cuts of meat. Double seals provide a superior barrier against air leaks and strengthen the seal against tearing when moving larger cuts to your freezer.
Vacuum Bags for Large Items
If you're vacuum sealing large cuts of meat, like a rib cage for a pig roast, you'll struggle to fit them into standard sized vacuum bags. We recommend opting for rolls of uncut pleated bags as they offer the best bang for buck and unfold to offer the largest volume.
Just make sure your vacuum sealer is powerful enough to handle all the extra air that will need to be pumped out as these bags are huge!
Last update on 2022-06-27 at 15:58 / Affiliate links / Images from Amazon Product Advertising API
Bag Storage & Cutting
Nice features to have are an integrated bag roller and bag cutter.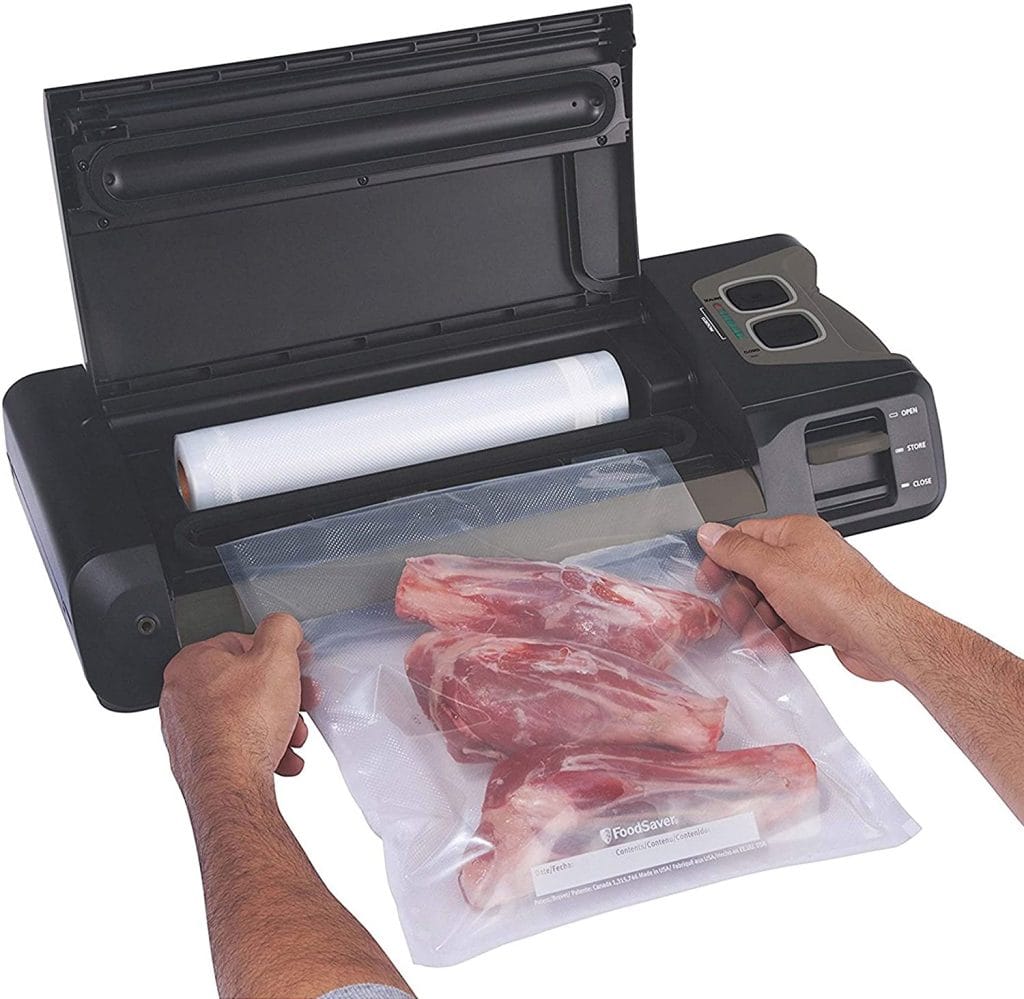 Having your vacuum bag storage and bag cutter built into the machine makes your job a lot easier and faster which you'll appreciate if you're sealing a lot of large items. If you're only sealing one or two items at a time then you can certainly manage without them.
Drip Tray & Liquid Protection
If you're vacuum bagging items that contain a lot of moisture or liquid such as marinated meat then look for a vacuum sealer with some kind of moisture protection.
Many sealers have a removable drip tray that will catch leaks and allow for easy removal and cleaning.
High end sealers often have a moisture stop feature that detects excess moisture and pauses the vacuuming process before it gets sucked into the pump.
Check out our top tips for vacuum sealing liquids and marinated foods.
Seal Bar Width
It's not just the size of the vacuum bag that will limit how much you can seal in one go but also the width of the seal bar.
Small vacuum sealers for general home use have seal bars in the 8"-11" range. If you're sealing larger items you'll need to look for something wider in the 12"-16" range like the VacMaster PRO380 which is even wide enough to vacuum seal two 8" bags at the same time!
AC/DC Power
If you're vacuum sealing large cuts of meat out on a hunting or fishing trip then you'll be pleased to know that sealers like the FoodSaver GameSaver Big Game come with the option of 110/120V AC power for home use and 12V DC adapters for outdoors use.
You'll be able to take your vacuum sealer with you and hook it up to a boat or RV battery and seal fresh cuts of meat straight into vacuum bags!
Do You Have Any Tips for Vacuum Sealing Large Items?
Leave a Comment Below!