The Best Overall Garbage Disposal:
Waste King L-8000
Reasonably priced & powerful. Features a 1HP motor, easy installation, a lifetime in-home warranty on parts & a lifetime corrosion guarantee.
Features
1 Horsepower
2800 RPM motor
Stainless steel blade
20-year warranty
Corrosion resistant grinding chamber
Power cord included
Some reported issues with leaking
Takes up a lot of space under the sink
What We Liked
The Waste King L-8000 scored highest in almost every area and feature we looked at. With its 1 HP, 2800 RPM motor it's by far the most powerful garbage disposer on our list.
This disposer will chew through almost anything you feed it including fibrous food, vegetable and fruit peel, meat, fish, fruit pits and even small bones.
Despite the L-8000's beefy specs the grinding chamber is well insulated so you can comfortably use the disposal without waking the neighbors though you may notice a slight "kick" as that 2800 RPM motor spins up.
Most people will find the L-8000 easy to install as it comes with a 36" power cord, so as long as you have a socket within reach there's no electrical work needed.
Internally it uses stainless steel impeller blades, a stainless steel sink flange and the grinding chamber is made out of Waste King's unique mix of glass and nylon which will keep rust and corrosion at bay.
If you are still worried about the longevity of the L-8000 then all of this is topped off with a lifetime limited in-home warranty on mechanical parts and defects and a lifetime warranty on corrosion!
Most people will find the L-8000 easy to install as it comes with a 36" power cord so as long as you have a socket within reach there's no electrical work needed.
If you want to hard-wire the unit, the L-8000's bottom can be popped off allowing you to remove the attached cord. Waste King have stated that swapping the power cord for a direct connection won't invalidate the warranty, unlike other manufacturers.
It comes with all the parts required for mounting the disposal under the sink and Waste King's EZ mount system means that if you are replacing an older Waste King you should be able to slide the old one out and pop the L-8000 in without any hassle although you may need an extra pair of hands to hold it in place when fitting.
What We Didn't Like
There are not many downsides to mention with the Waste King L-8000 except that it's worth checking you have plenty of clearance under your sink as all that extra horsepower makes this a pretty bulky unit at 8.5" x 16" compared to the L-3200 (7.8" x 13.8") and the L-2600 (6.8" x 13.5").
Last update on 2023-10-03 at 15:27 / Affiliate links / Images from Amazon Product Advertising API
The Best Garbage Disposal on a Budget:
Waste King L-2600
An excellent garbage disposer for small households. The L-2600 represents the most bang for your buck with a 1/2HP motor, pre-installed power cord, easy installation & a 5-year warranty on parts. However, keep an eye out for the upgraded L-3200 model as this can sometimes be found on sale for a similar price to the L-2600!
Features
1/2 Horsepower
2600 RPM motor
Stainless steel impeller
Corrosion resistant grinding chamber
Power cord included
Lacks power compared to larger models
More powerful L-3200 model is often on sale for a similar price
What We Liked
The Waste King L-2600 packs a pretty good punch considering its low price-tag and wins in our best budget garbage disposal category.
The L-2600 comes with a 2600 RPM ½ HP motor, enough for small households looking to dispose of smaller food scraps.
However, if you are looking at budget waste disposers it's worth checking the price of the higher spec Waste King L-3200 as it's regularly on sale and if you're in luck it can sometimes be found for less than the L-2600 making it a much better value purchase.
This waste disposal comes with a 2600 RPM ½ HP motor, enough for small households looking to dispose of smaller food scraps such as potato peels, soft fruit, rinds, cereal, meat trimmings and seeds.
Like other Waste King models, they provide most of the fittings and features you will need including a power cord, manual reset switch, dishwasher inlet and stainless steel flange.
The internals are made of rust and corrosion resistant stainless steel and the grinding chamber is made of a glass/nylon mix that will stop corrosion in its tracks.
The warranty is a generous 5-years in-home on mechanical and parts and lifetime on corrosion.
What We Didn't Like
The L-2600 is perfect for small households at just 6.8" x 13.5" under the sink but if you are looking for something more heavy duty its small motor may not be powerful enough.
For just a small amount more the L-3200 offers a 2700 RPM ¾ HP motor whilst still maintaining the small form factor (7.8" x 13.8").
Last update on 2023-10-03 at 17:27 / Affiliate links / Images from Amazon Product Advertising API
Last update on 2023-10-03 at 17:27 / Affiliate links / Images from Amazon Product Advertising API
The Best for Septic Tank Systems:
InSinkErator Evolution Septic Assist
The safest disposer for septic tanks. This model has been specifically designed to play nice with your septic system with its Biocharge injection system breaking down food particles even further.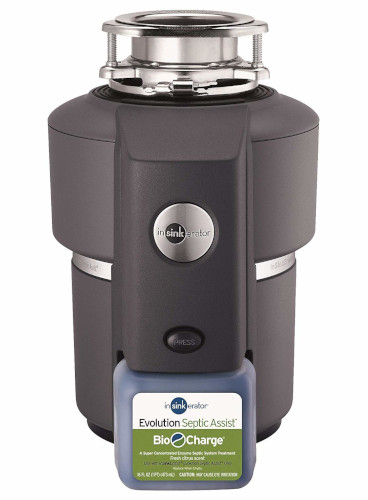 Features
3/4 Horsepower
1725 RPM motor
Bio-charge septic assist enzymes
Built in the USA
2-stage grind chamber
Stainless steel grind chamber & components
SoundSeal noise dampening
4-year in-home warranty
Power cord sold seperately
Issues with Bio-Charge bottle coming loose/leaking
Bio-Charge injection system not repairable
What We Liked
If your household is connected to a septic tank system and you are worried about a garbage disposer blocking your tank or interfering with the sensitive bacteria levels, then the InSinkErator Evolution with Septic Assist solves that problem.
How quickly the enzyme is used up will depend on how heavily you use the disposal, so it is worth factoring replacement Bio-Charge cartridges into the overall cost.
It incorporates a "Bio-Charge" treatment that injects millions of micro-organisms into your waste stream, helping to break down food particles even further than just grinding alone.
The Evolution also features a stainless steel, two-stage grinding chamber that makes up for its less powerful 1725 RPM ¾ HP motor and ensures food particles are broken down as much as possible before being washed into your septic system.
InSinkErator include most of the features and attachments you will need to get everything installed and set up except for the power cord so you will need to purchase one separately or reuse the wiring from your previous disposal unit.
The unit comes with a 4-year in-home warranty through InSinkErator's network of authorized installers and repair agents.
What We Didn't Like
The Evolution Septic Assist does come with a Bio-Charge bottle however it will eventually need replacing though some long-time users claim a single bottle can last for over a year before running dry.
How quickly the enzyme is used up will depend on how heavily you use the disposal so it is worth factoring replacement Bio-Charge cartridges into the overall cost.
The only other downside to the InSinkErator is the lack of included power cord, especially given the price. 36" InSinkErator cord kits can be bought cheaply so it would have been nice if they included it with the Evolution.
Last update on 2023-10-03 at 13:39 / Affiliate links / Images from Amazon Product Advertising API
Find out more about using a garbage disposal with a septic tank ›
Garbage Disposal Installation
Professional vs DIY Installation
If you are replacing an old or warn out disposer, fitting the replacement unit should be straight forward.
How easy it is installing a garbage disposer for the first time depends on:
Space under the sink
Nearby electrical outlets
Single or double sink
Available tools (pliers, plumbers' putty, screwdrivers etc.)
Larger disposal units are heavy so you may need one person to hold up the disposer while the other person connects the unit to the mounting ring assembly.
Professional plumbers will be able to fit a waste disposal unit in a few hours, however, check to make sure they are qualified to carry out the necessary electrical work. You may need to budget for an electrician to come in as well to install an outlet or fused connection unit.
Will it Fit in Your Sink?
Garbage Disposal units will fit most off-the-shelf sinks as long as you have a standard plumbing setup and the ability to connect or wire electrical outlets nearby. Check to make sure the included sink flange is the correct size for your plug hole. Extended flange kits are available to accommodate sinks from ¾" – 1¾" (19mm – 44.5mm) thick in case you have a non-standard sink size.
Confirm that your under-sink area is large enough to accommodate a disposer unit and that you will be able to squeeze the appropriate plumbing into the space. A flexible, extendable discharge tube will make it easier to connect the disposer to your drain line if you are running out of space or are dealing with tricky angles.
If you have a double sink, check the manufacturers instruction/installation manuals before purchasing as some claim to require separate drain taps for each sink. This is code in some areas but do not assume your sink was plumbed correctly.
Connecting a Garbage Disposal to Your Dishwasher
If you have a dishwasher, then consider connecting the dishwasher hook-up to the waste disposer during the initial installation. Most waste disposal units feature a small plastic plug that can be punched out with a hammer and screwdriver. The dishwasher outlet can then be connected up to the garbage disposer.
Ensure that you create an "air-gap" in the dishwasher outlet by looping it up to the level of the counter-top before going down into the disposer. Creating the air-gap stops water backing up the wrong way into the dishwasher.
Find out more about the purpose of an air-gap on a dishwasher
Air Switch vs Electrical Switch
Air-switches are an important safety feature to consider when installing a garbage disposer. They provide an important air gap between sink water, wet hands and electrical switches. Most models include an air switch but some cheaper models like the InSinkErator Model 46 do not come with an air-switch and should be purchased separately.
Consider where you will install the air switch in your sink unit and what kind of fit and finish you would like to match with your kitchen style.
Also consider where your nearest electrical outlet and whether you want to wire into a fused spur/fused connection unit (FCU). Some kitchens configurations may allow you to plug directly into the outlet that powers a dishwasher or washing machine. Some manufacturers give you the option of choosing the type of electrical connection the unit ships with to make DIY installation easier.
More info about the pros and cons of using a disposal air-switch
Sink Flange
Check the sink flange that is included in your garbage disposer. Some of the cheaper models will include a plastic flange that will degrade over time and may not fit with the décor of your kitchen.
You may wish to upgrade to a mid-tier kit which often includes a stainless-steel flange or purchase one separately. Galvanised steel will rust quickly so is not recommended.
Included Plumbing Kits
Check which parts come included with the waste disposal unit and which you will need to purchase separately:
Waste disposal unit
Air-switch
Air-switch ring
Sink stopper
Sink flange
Power cord
Removable dishwasher drain inlet
Dishwasher connector
Sink mounting assembly
Mounting gasket
Sound Baffle
Drain line
Universal plumbing kit
Features to Consider When Buying a Garbage Disposal
Disposal Grinding Stages
Some garbage disposal units feature multiple grind stages to more help reduce your food waste particles as small as possible. The benefit of multi-stage grinders is that they reduce the strain on your wastewater outlet by chopping food into tiny particles that are more easily washed away. This is especially recommended if your wastewater feeds into a septic tank system. Some InSinkErator units for example feature two or even three-stage grinders.
Grinding Chamber Size & Material
The grinding chamber is the where the magic happens. A larger chamber will allow for a faster throughput of food waste making your waste disposal unit faster and easier to use. A larger grinding chamber will also increase the size of the unit's footprint so ensure you have enough size under your sink to fit all the necessary components.
Make sure the chamber is made of stainless steel and not plastic or any other material as this will improve the longevity of your disposer. Galvanized steel may sound like a strong and hardy material but actually the anti-rust properties of galvanized steel are definitely inferior to stainless steel.
Some interesting info about waste disposer materials
Motor Power
Bigger is obviously better when looking at garbage disposer motors but bigger also means more expensive. When deciding, consider how much food waste your household usually creates.
It is recommended that small to medium households will need at least a ½ HP motor. For larger households you will extend the lifespan of your waste disposal unit by going for a ¾ HP motor or more.
A more powerful motor will also handle more difficult food waste, reducing the chance of blockages and jams. Also consider however that a larger, more powerful motor will often be louder when operated.
Auto-reverse Feature
Many top-end garbage disposers have an "Auto-Reverse" feature that helps to remove or clear jams and stoppages by reversing the grinding direction to dislodge and back out blocked food waste. Other models may also come with a blade-oscillating feature that vibrates and clears food that is in danger of jamming the grinding mechanism.
Blade Materials
Modern garbage disposal units do not have spinning blades like you might assume but instead use an impeller blade system that pushes the food waste against the walls of a grinding chamber.
The "blades" should be stainless steel (not galvanized steel) to help avoid rust and corrosion and should be regularly cleaned to ensure smooth operation. Check the price and availability of replacement shredding plates & grinder parts in case you ever need to replace them in the future.
How to look after garbage disposal blades
Septic Tank Features
If your wastewater drains into a septic tank, it is definitely worth choosing a waste disposal unit that comes with septic tank assist features. These are specifically designed to reduce the strain on your septic system by releasing a stream of millions of enzymes into your food waste helping it to break down even further. The enzyme pods are designed to last for around six months so factor replacement pods into your cost calculations when shopping around.
Homes with septic tank systems will also benefit from multi-stage grind chambers to ensure food particles are chopped up as small as possible before being flushed into the septic system.
Can you use a garbage disposer with a septic tank?
Sources
InSinkErator Sink Flange Photo – Chris Ballance
Badger 5 Installation Photo – Buba69
Waste Disposer Materials – Kirby Palm
© S.J. de Waard / CC-BY-SA-4.0 (via Wikimedia Commons), CC BY-SA 3.0 – Wikimedia Commons