The Best InSinkErator Overall
InSinkErator Evolution Excel
Features
Built in the USA
1 HP Dura-Drive motor
3-stage grind chamber
Stainless steel grind chamber & components
SoundSeal noise dampening
Auto-reverse feature & jam-sensor
7-year parts & in home warranty
Dishwasher drain connection
Power cord sold separately
Slows down sink drainage
Very bulky under the sink
Last update on 2023-06-06 at 14:27 / Affiliate links / Images from Amazon Product Advertising API
The Best InSinkErator on a Budget
InSinkErator Badger 5XP
Features
Built in the USA
3/4 HP Dura-Drive motor
Stainless steel grind chamber
Cheap to run
3-year parts & in-home warranty
Dishwasher drain connection
Power cord sold separately
Galvanized steel grind components
Single stage grinding chamber
Last update on 2023-06-05 at 22:12 / Affiliate links / Images from Amazon Product Advertising API
The Best InSinkErator for Septic Tanks
InSinkErator Evolution Septic Assist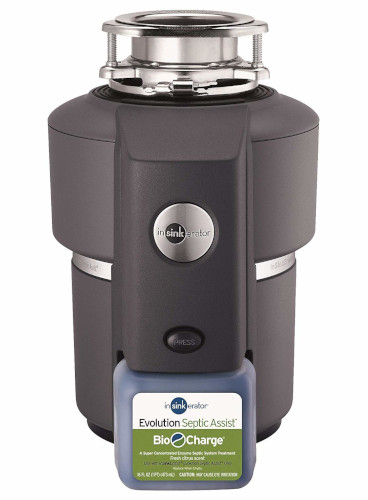 Features
Built in the USA
3/4 HP motor Dura-Drive motor
2-stage grind chamber
Stainless steel grind chamber & components
SoundSeal noise dampening
Septic tank safe
Bio-Charge enzymes break down food waste
4-year in-home warranty
Power cord sold separately
Issues with Bio-Charge bottle coming loose/leaking
Bio-Charge injection system not repairable
Last update on 2023-06-06 at 11:04 / Affiliate links / Images from Amazon Product Advertising API
How InSinkErator Waste Disposal Units Work
InSinkErator waste disposal units are small devices that fit under your kitchen sink. They quickly and quietly grind food waste as it passes through your plug hole and wash the ground up food waste into your wastewater system.
Most people incorrectly believe that InSinkErator disposer units contain sharp blades or propellers that chop up the food as it goes through your plug. In fact, InSinkErators do not use blades at all but instead use a grinding action that breaks your leftover food down in to small pieces before mixing them with water and washing them away.
What Happens to the InSinkErator Food Waste?
You are probably wondering where the food waste goes after it leaves your InSinkErator though right?
Well, if you use a septic tank system your food waste will travel along your wastewater pipe into the septic tank as usual. The food waste that exits an InSinkErator is almost completely liquified by the grinding mechanism, so you don't have to worry about clogs or blockages in your wastewater system.
Most people's wastewater however goes into a wastewater pipe or sewer system which takes everyone's waste to a water treatment facility. A filtering process removes any particles like food waste and puts them into a digester tank where they are broken down. Many water treatments facilities use this to repurpose your old waste into fertiliser or biofuel!
InSinkErators & Septic Tanks
Many people are under the false impression that InSinkErators cannot be used if you have a septic tank system installed. In fact, modern garbage disposers grind the food down so effectively that septic tanks can easily handle the wastewater. For those worried about the food matter not breaking down enough in their septic tank, InSinkErator also sell waste disposer that contain special enzymes that help break down food waste even further.
Check out our review of the best waste disposers for septic tank systems for more information about septic-safe food disposers.
How to Operate an InSinkErator Garbage Disposer Unit
Turn on your water so that the food passes through the unit efficiently.
Turn on the InSinkErator. Most InSinkErators come with an air switch which is fitted next to your sink for safe and easy access. Air switches are a special push button switch that use air pressure to turn the unit off and on. This means that even if water splashes from your sink into the switch, you are completely isolated from any live socket and allows you to safely operate electronics in a wet environment like a kitchen sink!
Slowly feed your leftover food waste into down the plug hole into the waste disposer.
Once you have got rid all your food turn of the InSinkErator unit but leave the water running for a few seconds afterwards. This flushes any remaining waste out of the unit and into your wastewater system.
What Can You Put Down an InSinkErator Garbage Disposer?
Modern food waste disposers will handle pretty much anything you can throw at them with a few exceptions. Fats, grease and cooking oils should not go down a sink anyway as they will eventually block wastewater pipes. Many InSinkErator models come with two or three-stage grinding mechanisms that will even chew through fish and meat bones.
Yes
Fruit
Vegetables
Meat
Small Fish & Meat Bones
Coffee Grounds
Egg shells
Leftovers
Fruit Peels
No
Packaging
Metal
Plastic
Cooking Oil
Grease
Fats